Home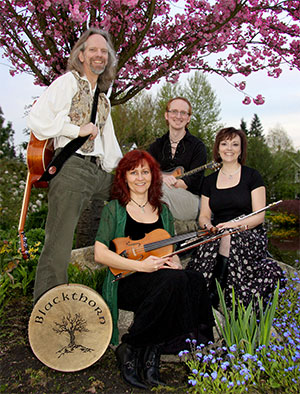 Blackthorn is a Vancouver (Canada)-based Celtic folk group whose repertoire celebrates the traditional music of Ireland and Scotland as well as folk music of English and French Canada.
The group formed in 1988 performing in local coffee houses and bars, expanding their horizons since then to include large-scale concerts, festivals, conventions, weddings, parties and private functions throughout western Canada and parts of the US.
From lively jigs and reels to heart-wrenching airs and ballads, savour the melodies and intricately woven harmonies that bring this music to life in a new way, mixed with humour and above all else, fun.
---
Saturday-Sunday, July 25-26, 2015
Pacific Northwest Scottish Highland Games and Clan Gathering
Enumclaw Expo Center (formerly the King County Fairgrounds)
45224 - 284th Avenue SE, Enumclaw, Washington
Sun, August 16, 2015
Princeton Traditional Music Festival
Princeton, BC
Sat, September 19, 2015
Open Skies CD Release Party!
The Rogue Folk Club
St. James Hall, 3214 West 10th Avenue, Vancouver
Check out our Calendar for a full list:

---